Yet again I write in retrospect, because of time constraints. This was just over a month ago and it's still fresh in my mind. We're had the great pleasure of visiting several restaurants since then but for now this is my recollection of a wonderful night out at...
La Trompette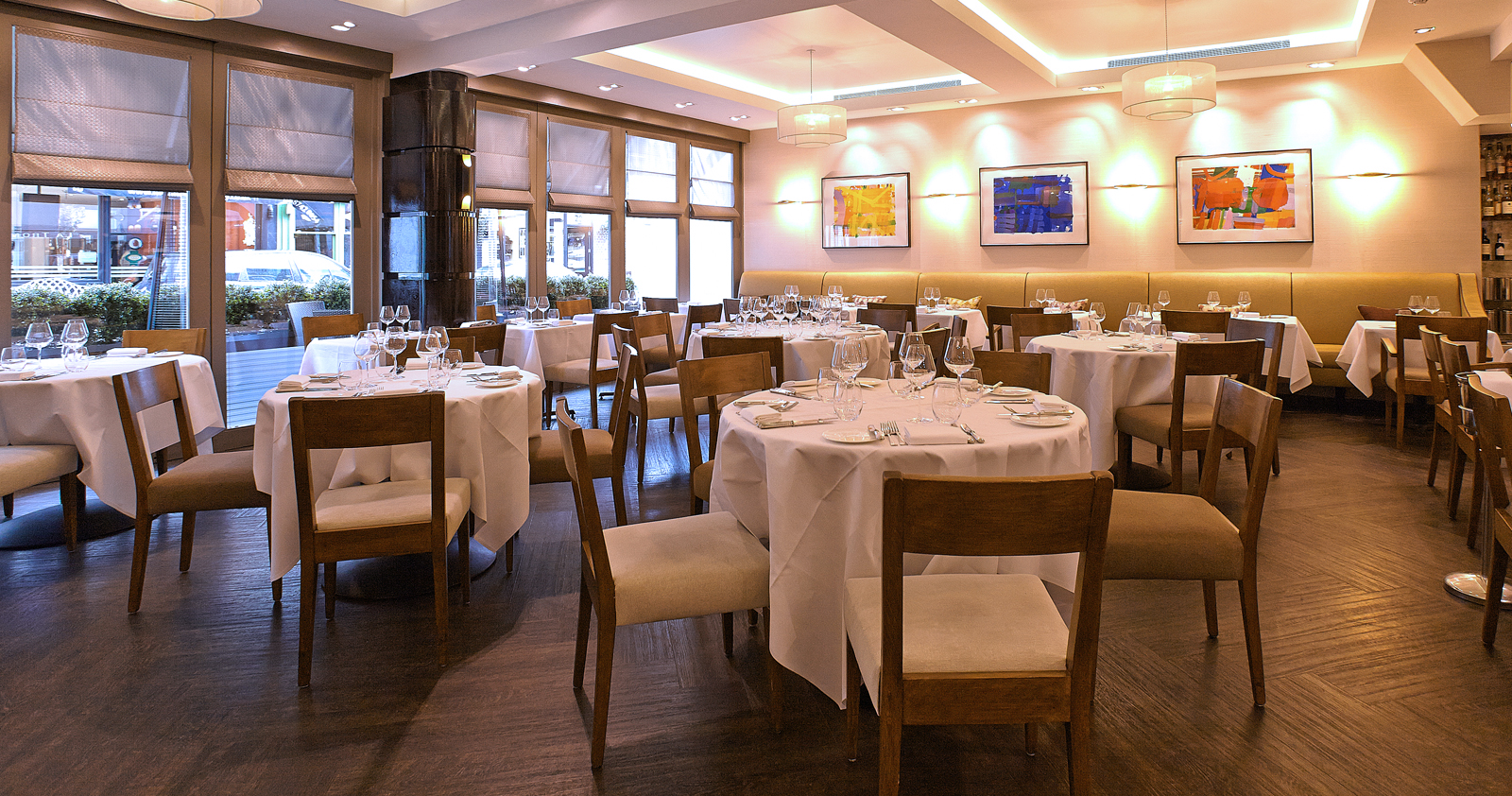 You won't notice it if you're not looking since it's just off the main street. From a distance you might mistake it for just another one of those dull Italian chain restaurants that are literally littered everywhere these days. You know the ones; they make pasta dishes that, whilst fairly enjoyable, you know you can do a better job of at home.
First, let me mention the service. Excellent. It's not just that they are attentive and helpful but that they go out of their way to make things right.
I should give some background.
We'd booked the private room for 16 but neglected to tell the restaurant that 4 more people than we'd originally planned for were coming. Not being a restaurant owner or manager it completely slipped my mind and the table size was too small for 16.
They made it work without complaint. Wonderful aversion from potential disaster.
Z: Salad of Devon crab with apple, curry leaf vinaigrette and baby gem
A: Roast French rabbit with new season borlotti beans, pine nuts and raisins
I love nicely made rabbit and this was tender and sweet as it should be. I've no complaints and would certainly have this dish again. Raisins are the perfect complement to the subtle succulence of the meat and it was much less rich than I'd expected, and refreshingly so.
However, I have to hand this round to Z's salad. It looks a little boring on paper and the paper lies. You can't tell exactly what is in a crab salad mix but that only added to the experience. Fresh, creamy, lush, more than the sum of its parts.
A: Roast Anjou pigeon with cracked wheat, preserved lemon, dates and purple sprouting broccoli
Z: Roast Hampshire roe deer with hazelnut dumplings, peas, broad beans and pine
I admit it; I went over the top. Rabbit and then pigeon is wrong, ordinarily (in my opinion as I don't like two rounds from the same stable), but I was feeling a tad gluttonous. It all worked out though since the rabbit had been lighter than expected and happily the pigeon was too. It's hard to say this because I did enjoy this dish, but I wouldn't have it again. There is a reason for that though; the pigeon was meaty but light and the mild gaminess was complemented well by the sharpness of the lemon and the deep sweetness of the date. It was nowhere near as exciting as Z's deer though.
Oh the deer. Again I was disarmed by the lack of power because a lot of this menu sample had potentially rich gamey meats in it. The deer had all the flavour you should expect but much less of that bloody, earthy flavour one gets in much game. Perhaps I'm fooling myself and the grass isn't really always greener but I really think Z's choices won both of the first two rounds.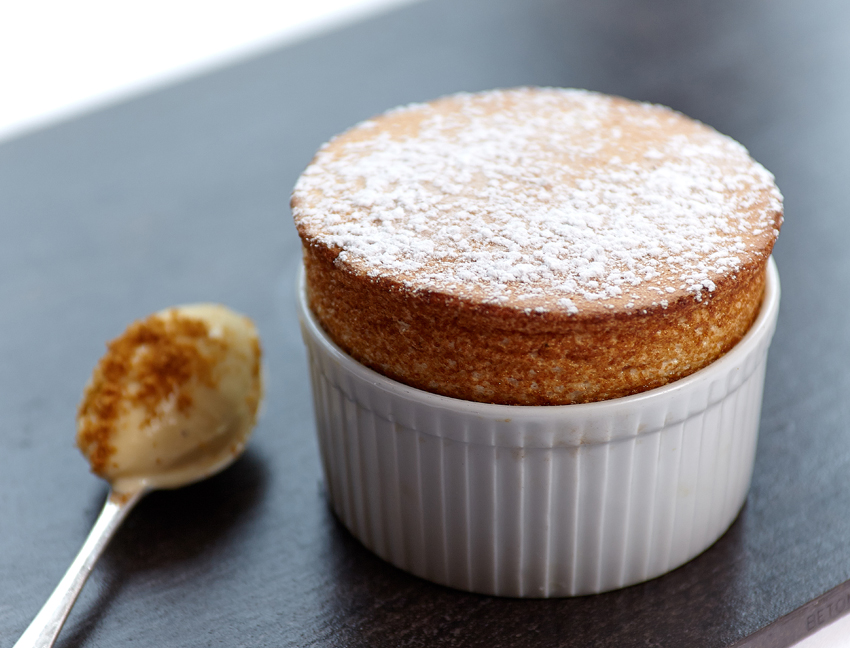 Z: Banana soufflé with cookies and cream ice cream
A: Mille-feuille of Kent mango with passion fruit and kaffir lime
The soufflé is served with the ice cream in the middle. They make a hole in the top of the soufflé and place the ice cream directly into it. It works and it works well. Good soufflé, good job. It's a little heavy if you're filled but just right if you're not. When I was writing this Z saw the picture I was posting and reminded me how much she liked it. Remember, Z is really into desserts and is fairly particular. If the texture of your macaroon isn't right Z will pick it up in a bite.
In contrast my choice lacked the punch I was hoping for; the mango was far, far too light. Mango is a powerful and distinctive flavour and can overpower other fruit so caution is welcome. But I'm pretty sure the maître d' is South African and they should let him taste it once in a while – it needs more guts. Perhaps it's my experience of picking fresh mango off trees in Africa that's biasing me but I wanted to be reminded of that refreshing and unique thirst that real mango quenches. Turn it up to 11, at the moment it's on 6.
The night was a success. I should mention the excellent wines we had, including a lovely dessert vine to finish. I've no idea what they were as a friend of ours who is well versed in winery acted as sommelier but I will say I like the white, loved the first red, was indifferent to the second red (though luckily the first made a return later) and welcomed the dessert wine that I so rarely have.
Overall the food is very good, and although it's not spectacular (I reserve that word for the truly tremendous places we've eaten in France, Spain and Italy) I would just love to go back to La Trompette. It's a perfect place to have a get together and the private room is just great. And since we've never eaten there on our own I might give them a ring next month, in fact. I need a treat.